We are pleased to communicate that the 4th Mediterranean Plant Conservation Week (4MPCW) will take place in Valencia, Spain, 23 - 27 October 2023. Title "Plant Conservation and Ecosystem Restoration in the Mediterranean". Venue: Botanic Garden of Valencia. Organisers: GENMEDA members Centre of Applied Forest Research (CIEF), Botanic Garden of the University of Valencia (JBUV) and IUCN, as well as GENMEDA as a network.
The MPCWs are one of the most relevant international events on plant conservation in the Mediterranean region. GENMEDA was also among the organisers of the 3MPCW which took place at the Mediiterranean Agronomic Institute of Chania, 27 September - 1 October 2021, and the CARE-MEDIFLORA project which supported GENMEDA was among the organisers of the 2MPCW at the University of Malta, 12-16 November 2018. The 1MPCW took place in Ulcinj, Montenegro, 24-29 October 2016, and CARE-MEDIFLORA project partners (many also GENMEDA members) participated. The MAVA Foundation has been one of the main donors of the first 3 MPCWs.
The registration for the 4MPCW as well as abstract presentation periods will start on 1 February 2023. More information and the 4MPCW programme will be announced soon on the website of the MPCWs (www.medplantsweek.uicnmed.org).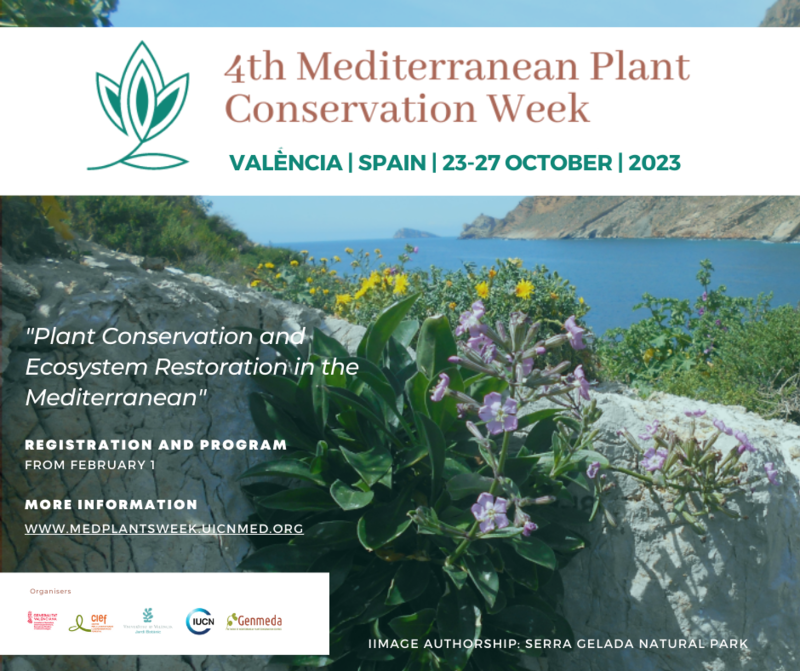 All news